Hello! It's been a long time! With me back in school and pup in a new job, we've been busy busy busy! But, not too busy to play with my kitten!
After many months of trying to work out schedules, we finally found a time when kitten, pup and Master could play! For the occasion, I got a new
toy
: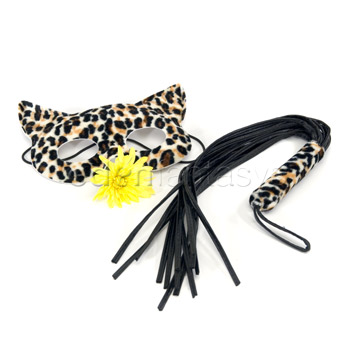 A kitten mask and matching flogger, courtesy of our
sex toys
and
BDSM gear
partners
Eden Fantasies
!
We started out the evening with a little dinner and some drinks. I sat between my pets, giving me access to both. puppy wore a pretty pair of black lacy panties, kitten wasn't permitted to wear any.
After dinner, we went back to kitten's house. To set the mood, I played a couple of movies from the Divine Bitches collection. If you aren't familiar with these ladies, get familiar. They are deliciously evil, and Maitress Madeline is my hero! kitten had never seen any of their films, so it was a real treat for her!
While she was busy with him, I got out the new
toy.
I had kitten put on the mask while she tortured my pup. Honestly, the mask is hot, and she looks great in it, but in the context of the sex play it seemed a little cheesey. It wasn't long before I had her take it off. I know a lot of people are into dressing up for role play, and I think that is great. I am not sure it's for me, though.
However, the
flogger
is wonderful! I bent kitten over the bed and beat her ass with it. The flaps are not leather, but they really do so well at getting the blood flowing. Her ass was red in no time. kitten loves to be spanked, and her pussy got so wet with every strike. It was wonderful whipping her tight ass and seeing her pussy leak juice drop by drop onto her bed. Im sure she was able to smell the pussy juices immersed in her bed for days as a reminder of her encounter.
Unfortunately, my arm got tired much too soon, and we were forced to switch to other games. kitten had never been tied up before, so I tied her to the bed. She has a perfect bed for bondage, with wooden posts that are very secure.
I gave her a small break by feeding her my own nipples, forcing her to suck and lick them while I sat over her. Then I ordered pup to fuck her with the dildo again. He pushed the glass dildo deep into her wet pussy...fucking her over and over...making her wet pussy leak onto her bed (yes there were manyyyy wet spots at the end of the night). I told her she did not have permission to stop sucking my nipples, even if she needed to scream or cum. This, of course she was unable to do so I punished her by using the flogger on her naughty pussy and nipples while puppy forced yet another orgasm out of her. She did not seem after this to have properly learned her lesson, so we did it two times more. After that, she begged for a break (mind you, she had now had 6 orgasms in about 30 minutes).