So, last night pup and I met a potential Bull who has experience with another couple. It was just a casual, get to know you sort of a meeting, but meeting with a potential Bull is never a boring thing. We hit it off with him fairly well, and I feel pretty confident in his ability to be discreet and available... This is VERY enticing.
So, here is the question... Can he perform?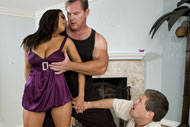 I mean, sure the idea of cucking my pup is hot in theory, but what's the point if I don't get pleasure?
I am very hard to please, and my standards are high, so I have my reservations. How do you determine someones sexual abilities without having sex with him? Ask for references? Tell him to bring a date and watch him perform on her? Get her feedback while he does so? That is a hot idea...

He is a very good talker, I must say. Has hot stories, and sexy ideas. One of which I will share with you...
Last night he wanted to go to the bar parking lot, a secluded dark corner. Wanted me to make my puppy edge his little clit while he hiked up my skirt, pulled down my top and fondled me and I pulled out his thick hard cock and rubbed it.... All the while my little pup would be forced to watch and play with his clit, but not allowed to cum...

See what I mean? Hot ideas... Definitely made me wet talking about it...
I would take his ideas a little further though... I would

Make puppy eat all of the cum that leaked out of his clit and the Bulls cock.

Get the Bulls precum all over my hand while I stroked it, then have him lick it clean like a good little pup.

Kiss the bull, then kiss my pup so he can taste another man in my mouth...

Maybe even hold the Bulls cock in my hand, then have my pup move and squeeze it, sort of him helping me stroke another man's cock...
Definitely some ideas to keep in mind, should we proceed with this...
But, back to the question at hand... How do I find out if he can please me before I go to bed with him? Any ideas? Suggestions?